Cheverus High School's athletic and activities program is designed to further the educational development of young men and women through participation. We at Cheverus believe that the competition, camaraderie, loyalty and respect for others experienced in athletics and activities will serve as a foundation for each student's continued growth and life-long learning experience. It is our hope to maintain a program that is sound in purpose, reflects the Goals and Objectives of Cheverus, furthers each student's educational maturity and health and contributes to school spirit and morale.
---
Athletics & Activites News
June 20, 2017
Portland, ME—Cheverus High School Announces the Selection of Gary Fifield as Varsity Girls' Basketball Coach
Cheverus High School Director of Athletics and Activities Gary Hoyt is pleased to announce that veteran women's basketball coach Gary Fifield has been named as the Stags Varsity Girls' Basketball Coach. Coach Fifield will take the helm immediately and implement the summer program. Fifield served as the women's basketball coach for 27 seasons for the University of Southern Maine, and compiled an outstanding record of 660-137, leading the Huskies to the NCAA Division III Final Four five times (1988, 1998, 2000, 2005 and 2006), including three appearances in the national championship game. During his career (1987-2008, 2010-2015), Fifield guided the Huskies to 20 Little East Conference tournament championships, including a string of 11 straight from 1997 through 2007. Additionally, Fifield's teams won or shared the LEC regular season crown an outstanding 21 times.
Under Fifield's leadership, the Huskies earned a berth in the NCAA Division III National Championship tournament in 24 of his 27 seasons. His teams extended the Huskies streak of 20 or more winning seasons, setting an NCAA Division III record for consecutive seasons with 20 or more wins with a streak of 30. Having coached and recruited some of the best Division III women's basketball players over his career, seven players of his former players have won the Little East Conference Player of the Year award a combined total of 12 times.
Among Fifield's many accolades, the Huskies veteran head coach was named the NCAA Division III National Coach of the Year in 2005 after leading the Huskies to a 31-3 overall record and a third-place finish in the NCAA tournament. Named the Little East Conference Coach of the Year a record 14 times, Fifield's teams have dominated their conference opponents amassing a record of 315 and 43 for a remarkable winning percentage of .879. In the LEC tournament, Fifield's teams have been equally as dominating amassing a record of 57-9 (.863 winning percentage).
Fifield was named the head coach of the Little East Conference's 25th Anniversary Team and was inducted into the conference's inaugural Hall of Fame Class in 2013. Fifield is a member of the USM Husky Hall of Fame (2015), the New England Basketball Hall of Fame (2013) and the Maine Sports Hall of Fame (2012) and will be inducted into the Maine Basketball Hall of Fame in August 2017. Respected nationally for his coaching ability, Fifield was selected and served as an assistant coach at the U.S. Olympic Festival in 1993.
Fifield arrived at USM from South Royalton (Vermont) High School in 1987, succeeding legendary coach, the late Dr. Richard "Doc" Costello, as the women's basketball coach. A 1975 graduate of the University of Vermont with a B.S. in physical education, Fifield earned a master's degree in educational administration from Vermont in 1982. Fifield, and his wife, Mary, have one son and reside in Gorham, Maine.
Regarding his new appointment, Fifield stated "Cheverus is an institution of academic excellence and athletic tradition and it is with great excitement that I join the Cheverus family. I am truly excited for the opportunity to promote a culture of positive energy, enthusiasm, hard work, and trust in the Cheverus Girls' Basketball program, while inspiring the young women in the program to succeed on and off the court."
Athletics & Activities Staff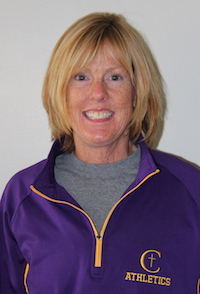 Marie Cross
Assistant Athletic Director
14 Years Experience At School
Marie, Interim Assistant Athletic Director at Cheverus, brings her 14 years of service at Cheverus to a new level. Previously the Assistant and Registrar in the Guidance Office, Marie is now in her third year with Athletics & Activities. As the Assistant AD, she will continue to manage the transportation for the entire school and will work with the Development Office and the Admissions Office to provide key information on the day-to-day happenings in our busy office. Marie has been involved in a multitude of activities at Cheverus, serving as a Class Advisor to many graduating classes, partnering with Campus Ministry in the RCIA Program, and announcing Athletic events. Marie is currently enrolled at USM and will graduate in December with bachelor's degree in communications.
Degrees
BA, University of Southern Maine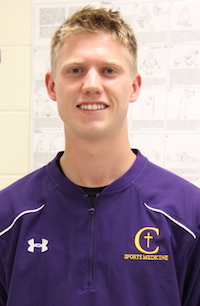 Patrick Green
Athletic Trainer
0 Years Experience At School
Assistant Athletic Trainer Pat Green is a graduate of Deering High School and a brother to Brent Green (Cheverus alumnus, 2013). Pat graduated from the University of New England with a degree in Sports Medicine. Pat is no stranger to Cheverus having done his student internship at Cheverus. Pat brings a high degree of knowledge and professionalism to the Sports Medicine staff.
Degrees
BA, University of New England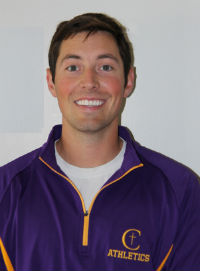 Nicholas Lops
Athletic Department Operations Manager
0 Years Experience At School
Nic serves in a part-time capacity, and his duties will encompass game management including event set-up, supervision, and clean-up. Nic will also assist in the management of uniform and equipment inventory. Nic graduated from Cheverus 2011; he was captain of the ice hockey and baseball teams and a member of the 2011 Baseball State Championship team. Nic earned his bachelor's degree from St. Joseph College, with a major in English and with a minor in secondary education. He played baseball and served as team captain for the Monks and was an independent professional baseball player in the CanAm league during the summer of 2016. Nic is currently pursuing his master's in School Leadership at St. Joe's.
---
Academic Excellence in the Jesuit Tradition
---