Cheverus High School's athletic and activities program is designed to further the educational development of young men and women through participation. We at Cheverus believe that the competition, camaraderie, loyalty and respect for others experienced in athletics and activities will serve as a foundation for each student's continued growth and life-long learning experience. It is our hope to maintain a program that is sound in purpose, reflects the Goals and Objectives of Cheverus, furthers each student's educational maturity and health and contributes to school spirit and morale.
Athletics & Activites News
May 10, 2017
Join the Cheverus High School Track Team as they score to fight cancer this season! By making a pledge toward every point scored during the Cumberland County Track Meet on Friday, May 19, you can help support Coaches vs Cancer and the American Cancer Society. Make a pledge, support your Stags and join the fight against cancer! . Every point counts, every dollar makes a difference!
March 07, 2017
Eight athletes from the Cheverus track team competed at the New England Indoor Track and Field Championship in Boston. Ashley Turner, Mallory Leighton, Julia Ryan and Rosie Train represented in the 4x800m relay. The quartet of Emma Gallant, Katelyn Gendron, Emma White and Emily Turner ran a school record and all-time, all-class Maine State record in the 4x200m (1:46.89). They broke a 22-year-old mark set by Scarborough in 1995.

Emma White put up an All-New-England school record and National Qualifying performance in the long jump with a leap of 18' 1". She moved from the 10th ranked position entering the competition to a third place podium finish. Emma Gallant competed in the 300m and moved her ranking from 13th to 8th with the second fastest time ever run by a Cheverus female athlete. Both Emma's will be competing at the National Championship Meet in New York City and achieved six of the top performances in Maine this winter.
Athletics & Activities Staff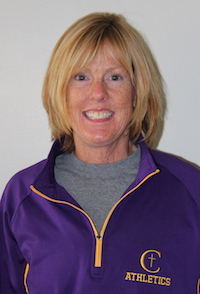 Marie Cross
Assistant Athletic Director
14 Years Experience At School
Marie, Interim Assistant Athletic Director at Cheverus, brings her 14 years of service at Cheverus to a new level. Previously the Assistant and Registrar in the Guidance Office, Marie is now in her third year with Athletics & Activities. As the Assistant AD, she will continue to manage the transportation for the entire school and will work with the Development Office and the Admissions Office to provide key information on the day-to-day happenings in our busy office. Marie has been involved in a multitude of activities at Cheverus, serving as a Class Advisor to many graduating classes, partnering with Campus Ministry in the RCIA Program, and announcing Athletic events. Marie is currently enrolled at USM and will graduate in December with bachelor's degree in communications.
Degrees
BA, University of Southern Maine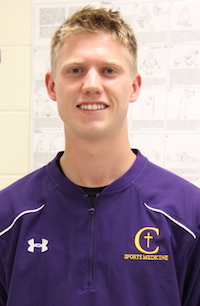 Patrick Green
Athletic Trainer
0 Years Experience At School
Assistant Athletic Trainer Pat Green is a graduate of Deering High School and a brother to Brent Green (Cheverus alumnus, 2013). Pat graduated from the University of New England with a degree in Sports Medicine. Pat is no stranger to Cheverus having done his student internship at Cheverus. Pat brings a high degree of knowledge and professionalism to the Sports Medicine staff.
Degrees
BA, University of New England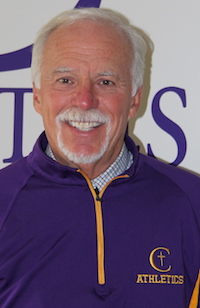 Gary Hoyt
Athletic Director
41 Years Experience At School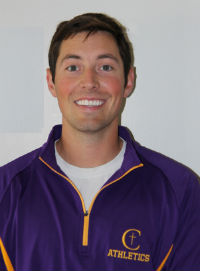 Nicholas Lops
Athletic Department Operations Manager
0 Years Experience At School
Nic serves in a part-time capacity, and his duties will encompass game management including event set-up, supervision, and clean-up. Nic will also assist in the management of uniform and equipment inventory. Nic graduated from Cheverus 2011; he was captain of the ice hockey and baseball teams and a member of the 2011 Baseball State Championship team. Nic earned his bachelor's degree from St. Joseph College, with a major in English and with a minor in secondary education. He played baseball and served as team captain for the Monks and was an independent professional baseball player in the CanAm league during the summer of 2016. Nic is currently pursuing his master's in School Leadership at St. Joe's.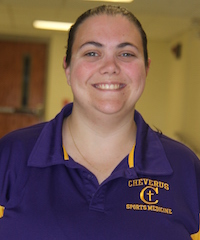 Kathryn McCarthy
Athletic Trainer
10 Years Experience At School
---
Academic Excellence in the Jesuit Tradition
---