Cheverus science prepares students to be innovative scientists and informed citizens. We are committed to a rigorous foundation in life and physical sciences in the context of our changing world. We recognize that in the recent decade alone, advances in applied and basic sciences have catapulted us into a world of greater opportunities and questions. Our hands-on, inquiry- and lab-based curriculum is grounded not only in rich content but is also guided by our Jesuit mission of service to humanity. We aim to grow leaders, thinkers, innovators, designers and engaged citizens.
Learn about the Cheverus STEM concentration which encourages students to expand academically, co-curricularly and personally while exploring and integrating science, technology, engineerng and mathematics.
Follow Cheverus science at #iggyscience.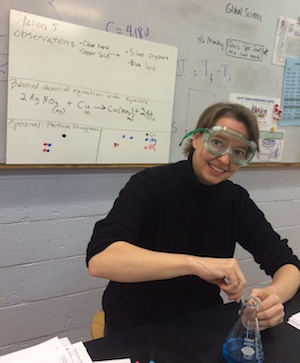 Helene Adams
Teacher
7 Years Experience At School
Ms. Adams is a teacher leader in the Greater Portland area. She is not only a chemist but also a scholar of teaching and learning. She has brought John Hattie's seminal work, Visible Learning, to our Cheverus community. Ms. Adams has presented at area conferences on best practices in chemistry and general science education. She is a co-framer of the Ignatian Carbon Challenge, a sustainability program which has networked over 20 Jesuit schools across the US and internationally.
Degrees
MA, University of Connecticut

BS, University of Connecticut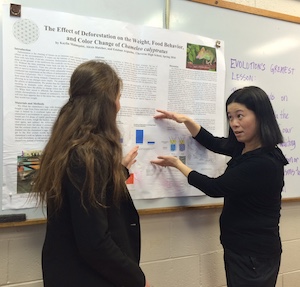 Cicy Po
Assistant Principal
7 Years Experience At School
Ms. Po is inspired by the power of her students' ideas and most enjoys coaching kids to use the gifts of their Cheverus education to help make the world a better place. Her students are designing body part enhancements or prosthetics on a CAD platform for review by a panel of local health care professionals with the goal of generating 3D-printed prototypes.
Degrees
M Ed, Harvard University

BA, Skidmore College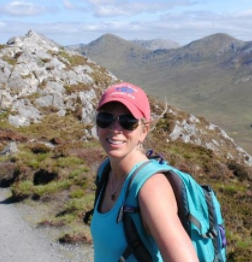 Erika Rhile
Teacher
16 Years Experience At School
Ms. Rhile is a dedicated teacher and a working scientist. Every spring, Cheverus students enjoy a field science immersion trip at her research site on Swan's Island. She is a well-networked and enthusiastic educator and is often called upon as a local presenter for naturalist and environmental science workshops. Ms. Rhile is an active community volunteer as a Board member of a local Land Trust, rescuer of stranded marine mammals and advisor to the organization Teens to Trails. Ms. Rhile is especially passionate about getting kids outdoors, and thrives on taking the Outing Club on unforgettable adventures.
Degrees
BA, Gettysburg College

Researcher, University of Pennsylvania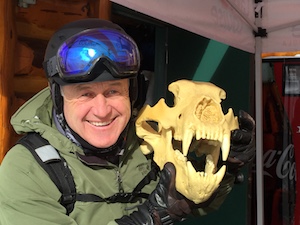 Mark Smith
Teacher
40 Years Experience At School
Mr. Smith has a deep and abiding love for the Cheverus community. At the same time that he is devoted to challenging his students with rigor, his classes are also filled with laughter and good humor! Mr. Smith believes in his students and doesn't let them be less than who they can be. You can find him by the ocean or on the ski slopes when he is not in school.
Degrees
BS, Concordia University -- Loyola Campus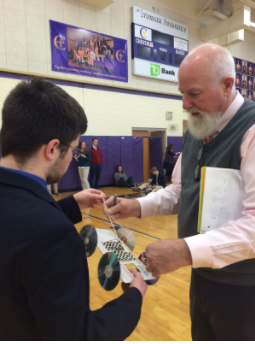 Henri St. Pierre
Teacher
32 Years Experience At School
Mr. St. Pierre is a beloved science educator who challenges students to engineer and design based on physics principles in his classroom. He meets the students where they are and opens for them a world of possibility. Always looking to grow, Mr. St. Pierre is a frequent attendee at conferences across the country. At the Limestone STEM Educators conference, he outblasted his competition at the Loring Air Force Base with his rocket design. He is a founder of a monthly science educators get-together at Bates College and frequently brings back equipment from Bates for use by our students. He presents and brings his "cool" physics stuff to the STEM collaboratives in Falmouth. In the fall, he taught his group how to make a homemade Van Der Graff Generator.
Degrees
BS, University of Maine -- Farmington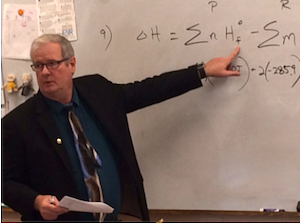 Kenneth Swanberg
Teacher
17 Years Experience At School
Mr. Swanberg is a miner of useful analytical apps for his classroom and enhances his physics classes with PhET simulations. He brings to Cheverus students a wealth of applied science from his work in the chemical engineering industry. He is a Track & Field coach and assists the Cheverus Outdoor Club because he believes students learn both in and outside the classroom. He has a passion for preparing students for competitive science undergraduate programs.
Degrees
MS, Antioch College

BS, University of Kentucky
Graduation Requirements
---
25 ½ Credits Minimum
English -- 4 credits *
Math -- 4 credits *
Theology -- 4 credits *
Science -- 3 years
(Global Science, Biology, Chemistry)
Foreign Language -- 3 years (same language)
History -- 3 years
(History I, II, III)
Fine & Performing Arts -- 1 credit total
Computer Technology -- ½ credit
Electives -- 3 credits
* 1 credit each year 9-12
---
Non-Credit Requirements
Retreat -- each year
Community Service
-- each year (Community Service page)
College Advising
(grades 11 & 12)
Formation Seminar (grade 9)
---
Academic Excellence in the Jesuit Tradition
---